Hey All! Where did the time go? It's April! I'm excited because it's finally warming up here and gardening weather is in sight.  I'm back with another round-up of things I'm into right now. 
First off is the 60's/70's modern architecture inspired by Sea Ranch and Fire Island Pines. These are two modernist developments on either coast that really looked to preserve the natural beauty of their sites but also had a fascinating contrast between their architecture and the natural surroundings.  Architect and planner Al Boeke was the visionary behind Sea Ranch and recruited many renowned American architects to design the residences there. Horace Gifford was the architect behind Fire Island Pines and really made a name for it amongst the gay community and architectural elite.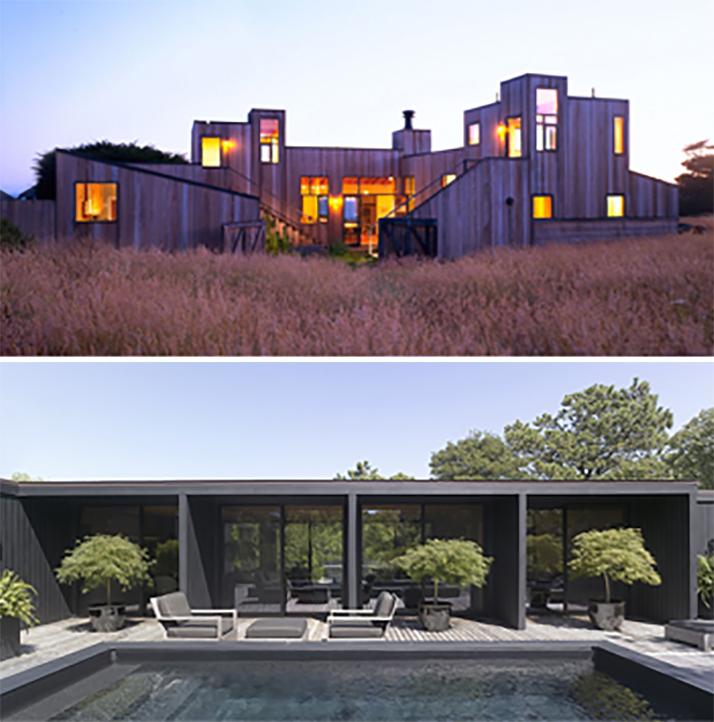 Sea Ranch (top image); Fire Island Pines (bottom image)
I've been spending a lot of time looking at houses in the Berkshires and dreaming of a similar type of house in Otis Woodlands which is a lake community of about the same era.  I'm love how Lauren Leiss updated her 70's modern house by painting it black.  It's such a cool current take on that architectural lexicon.
Lauren Leiss renovation (top image); Otis Woodlands home (bottom image)
Right now I'm sure into block printed textiles. I love that it can give a modern interior a touch of boho tradition.  The block printed fabrics I'm especially loving are from Les Indiennes. Clearly based on the name, they take queues from the Indian block printing tradition, but there is a little bit of an airy English Country house vibe as well. I can't wait to go up to Hudson NY for my birthday and check out their retail showroom.
I'm also having a topographical furniture moment.  A couple of months ago I posted about my love of channel tufting.  This is taking that same idea and turning it on the horizontal. First off, these Terraza sofas by Ubald Klug look so comfortable and super fun! And how cool is this machine age Diwani Chair?

Terraza sofa by Ubald Klug (left image); Diwani Chair (right image)
On the fashion front I'm loving the new Universal Thread line by Target. It's Target's answer to the clean youthful Madewell aesthetic. I have a few pieces from this line and I love the silhouettes and of course the price point!
And on the opposite end of the spectrum I am super inspired by the luxurious work of John Pomp. His combination of glass blowing and metalwork is truly amazing and to top it off, he is truly a nice person – I got to meet him at Whats New What's Next last year. Talk about someone that is up there on my list of collaborators!!