A while back I posted about what I thought were our essentials during Bryan's first months of life.  Well now that he's a whopping 6 months old and almost 20 pounds I thought I'd update you all on the items that we can't live without.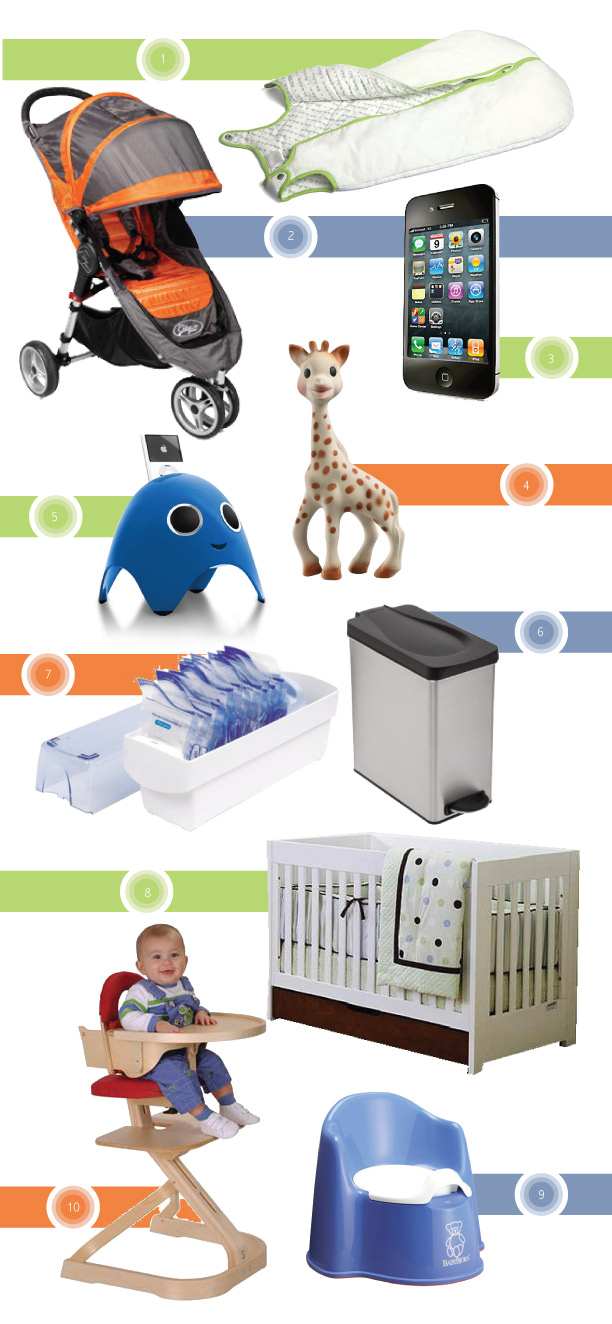 [1] Baby Deedee Sleepnest Sleeping Bag– This is a great alternative to the traditional sleep sack. It's warmer, like a comforter for baby that doesn't ride up or have accompanying suffocation risks. But what I love the best about this sleeping bag are the shoulder snaps. You can lay it out in the crib and place your baby onto the sleeping bag.  No need to attempt to cram his arms into the arm holes while he's sucking his thumb.  Just snap the straps up over his shoulders. As simple as it sounds, it's really a a life saver.
[2] City Mini Stroller – Now that Bryan is older we don't use the Snap-n-Go any more. He's just too heavy to be carried around in his car seat. And now that he's awake more and interested in the world around him, front-facing is the way to go.  The City Mini is like the North Face tent of strollers.  It was designed with efficiency and ease in mind.  It literally folds with one hand and one motion and is super compact without being an unsupportive umbrella stroller (which doesn't work for babies that are still so small).  It has an amazing sun shade with little view holes for the parents and reclines really far back, super for on-the-go diaper changes. I'd say the only thing that needs improvement is the size/accessibility of the under-seat compartment.  I wish I could fit my diaper bag in there! Otherwise, it's nearly perfect.
[3] The Iphone – I know it's kind of silly but it really is so essential. I was sort of late to the iphone game, having a blackberry for so long. But I'm so glad I switched when I did.  The iphone is so great for babies. We use our Baby Sign app to teach ourselves and Bryan sign language.  I use my Pleco app to look up Chinese words to use with our nanny.  Instagram is vital for documenting everything that Bryan does in an artful way.  And there are even games for babies and infants that we use and a Pandora station devoted to toddler's nursery rhymes.
[4] Sophie the Giraffe – I don't know what it is about Sophie, but babies love her.  She squeaks and Bryan lights up.  And with all her legs, long neck, pointy ears and snout she is the perfect teething toy.  And it doesn't hurt that she is made of natural materials (rubber from the rubber tree), and is cool and speaks with a French accent.  I think she's Bryan's first crush.
[5] iBoo Ipod Dock -In line with the Iphone mention above, the iBoo ipod dock is such a fun way to incorporate technology into a baby's room.  Great for listening to that nursery rhyme Pandora station and lullabyes when baby is fussing.
[6] Simplehuman Studio Profile Trash Can – I'm not one for using a Diaper Geenie. I feel bad enough that I gave up on cloth diapering and the thought of hermetically sealing all those diapers for posterity is scary to me.  That's why I love this little trash can. It's small enough that you throw the diapers away before they've gotten too stinky. And unlike other Simplehuman trash cans, this one is from Target and is a steal.
[7]  The First Years Milk Storage Organizer – Liquid Gold as they call it.  I thought about listing my Medela Pump In Style as an essential, but I have a love hate relationship with that thing. And let's be honest, the black nylon tote hasn't been in style since Kate Spade made it popular in the nineties.  This handy little milk storage system though hides in your freezer and keeps all of your frozen baggies of milk handy, flattened and organized.  I've used it with both Medela and Lansinoh bags and it works great!
[8] Babymod Park Lane Crib – I bought this crib online from Walmart.  Yes, you read that right… Walmart.  It looks a lot like it's much pricier cousins, and it lowers and turns into a toddler bed like them as well.  AND it has a handy storage drawer that is perfect for linens, sleep sacks, and burp cloths.  I haven't had any problems with it and it is such a great price point for something clean and modern.
[9] Baby Bjorn Potty Chair -As I mentioned above, I've been feeling some remorse about giving up on cloth diapering (Bryan was super sensitive to the wetness and I was changing diapers every half hour to 45 minutes).  EC to the rescue (EC stands for elimination communication which is the PC way of saying Infant Potty Training).  Basically we sit Bryan down on his mini potty whenever he changes his diaper.  I won't bore you with the details, but he pees and poops in his potty and it's not only fun, but it reduces our diaper waste and will hopefully get him truly potty trained much sooner!
[10] Svan Signet High Chair – Now that Bryan is eating solid foods he gets to sit in his high chair with the adults at meal time. We love the Svan. It's compact and stylish (oh, those Swedes!), but unlike Stokke's Trip Trap high chair, it has a tray attachment.  The tray is great because it means Bryan isn't spitting up onto the table or himself or banging his various toys on our furniture (at least for now). I'm sure it will come in handy as he gets older and wants to hold his food himself.  And it gradually adjusts down into a booster chair as he gets bigger.