Cozy Enchanted Nursery: Get the Look
Hello, Kate Cabiltes here!
I made a mental note of this nursery space months back after spotting it on My Domaine because I was intrigued by the unconventional beauty of it. While most nurseries are decked out in pastels, this room has a dark hued palette anchored by the deep blue walls and black painted fireplace. It's truly gender neutral due to its variety of colors and stylish pieces, none of which are overly themed. The mixture of modern pieces (the light fixture) and vintage (the rocking chair) makes this baby's haven even more interesting and will allow the room to last way beyond the infant phase.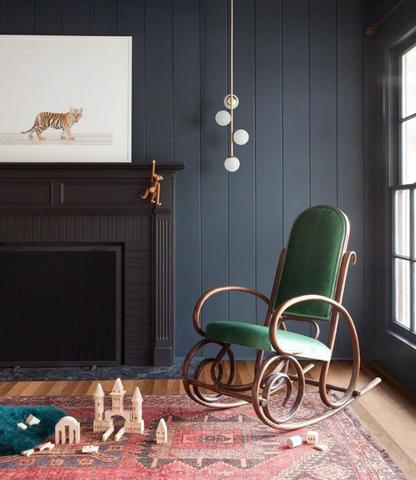 Here's how to get the look in your nursery…
Tiger Safari Print via Etsy
Saic Together Pendant Light via CB2
Rattan Rocking Chair via Chairish
Camera Wood Toy via Little Sapling Toys
Alfalfa Rug via Shoppe Amber Interiors
Black Blue Paint via Farrow & Ball
Inspiration image via My Domaine