FASHION FIX: The Capsule Wardrobe
Back when I made my new years resolutions I mentioned trying to be more stylish as one of my primary goals.  I've always enjoyed clothes and shopping but with a small house, my clothes were stuffed in Bryan and Lucy's closets and a few dresser drawers and it was impossible to know what I had, let alone figure out what to pair things with.  I actually did end up hiring a stylist for a one time wardrobe revamp about a month ago.  While she imparted some advice that I don't think I will be adhering to (she told me wear more belts and tucked in shirts) and wasn't so with-it on the minimal / hipster style front (she grimaced when she was my No 6 Clogs and my retro casio watch), she did help me purge a ton of my clothes which kickstarted my wardrobe revamp.
After the stylist came and went, my associate Jessica Burne put me on to a blog called Unfancy and the idea of a capsule wardrobe.  I love everything about Unfancy – from Caroline's style to the aesthetic of her blog.  The capsule wardrobe concept is that every season you create a capsule collection of say 37 items (arbitrary number) that are carefully curated and that work together.  You may have to shell out a few bucks at the beginning of the season but you wear everything all season long and don't have to worry about shopping except for those four times a year.  Included in the capsule are tops, pants, dresses, shoes and outerwear.  Excluded are accessories (scarves, hats, jewelry and the like), lingerie, workout clothes, formal wear and for me, gardening garb.
In any case I went through my clothes a second time and created a spring collection, deleting another big chunk which I gave to a bunch of girlfriends and relegating formal wear, off season stuff and a few things I wasn't completely sure about purging to Lucy's closet. I also splurged on these great flocked hangers (I figure I'm in my mid thirties and can afford to buy all new hangers).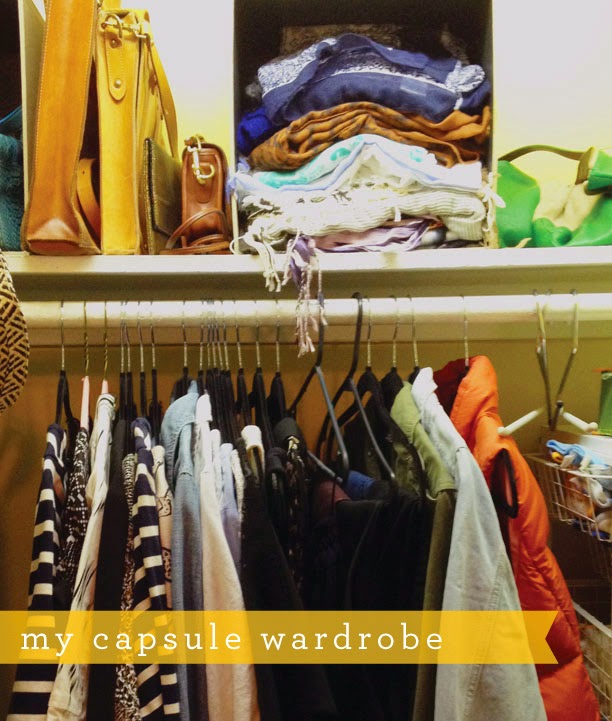 I had grand plans to photograph each piece in my capsule wardrobe for this blog post. That still may happen but it's distinctly possible that we will be well into summer before anything like that takes place. I'm attempting to document each outfit via my instagram feed and hope to feature them here in one post at some point toward the end of the season.  But for now here is a list of the items in my capsule wardrobe – there are 40 total.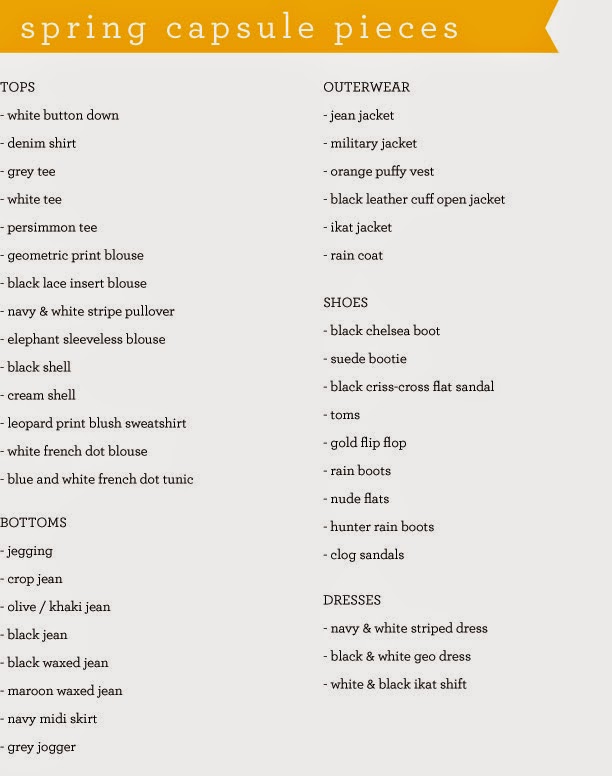 Oh and I chopped my bangs because I liked Caroline's so much…. and I had that crazy new-mom baby hair thing going on.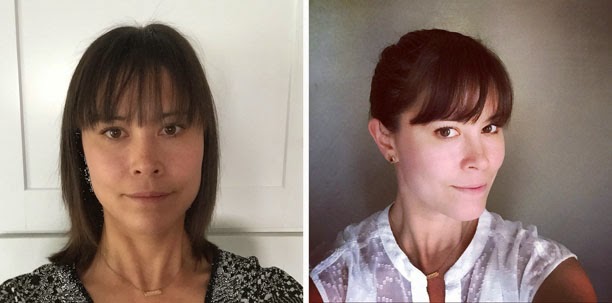 It's so exciting to have a new look and a uniform so to speak. Looking in my closet is refreshing and I feel like I have a more consistent style.  It's also inspiring me to simplify other parts of my life (like all that wrapping paper, boxes of gift bags and bows that I've been holding on to forever).  Stay tuned!