How to select plumbing with Build.com
Hi Friends! I'm here today to talk plumbing – no not how to solder pipes and the differences between PVC and copper – but decorative plumbing (faucets etc) in your bathrooms and kitchen. As I've been in the process of selecting and installing plumbing in the Hotlanta Midmod for the past few months I thought I'd share some of my experiences with you.
Let's start with the kitchen since it only really involves one area of plumbing – the sink. Even though it's just one sink, there are several components here. The sink itself, plus the faucet and the disposal, and all of the accessories for each of those. I selected all of my items from Build.com because after trolling the internet, they had the best selection of high quality items and their customer service team turned out to be truly top notch. If you recall here is what my design board looked like.
The sink isn't pictured but the faucet is and that certainly isn't to say the sink isn't important. So here we go. So whether you purchase your items retail, wholesale, online or from a showroom, you need to make the same considerations. First off, you need to ask yourself a bunch of questions about form and function. Let's start with function:
– Do you have a dishwasher? How much washing do you do in your sink Most of us these days have dishwashers but there are those of us that don't for various reasons (NYC apartment living being one that comes to mind). Are you going to be washing a ton of dishes on a daily basis? If so, your sink and faucet need to be a workhorse.
– What sort of washing do you do? Just daily pots, pans and the like? Or do you need to hand wash more delicate items like fine china? Taking the first question to the next level. If you're washing a lot of china, you might want a double sink – one for soapy water and another for rinsing. I personally am a fan of one single large sink. See question below
– Is your kitchen open to other areas of your house? Do you need to hide dishes in there? Because our kitchen is open to our dining and other parts of our house, it's important that it is designed in a way that keeps it looking neat and tidy even when we are in the throes of everyday life. That means a deep sink to hide dishes that we haven't yet washed or put in the dishwasher. If your kitchen is closed off, perhaps this is less of a concern for you.
– Aside from cleaning, what else do you use your faucet for? Drinking water? As a pot filler? Watering plants? Scrubbing fruits and veggies? We use our sink for pretty much all of the above – but we aren't super picky about filtered water. If you are, there are lots of faucet options that have filters and the Build.com team is great at walking you through options when there is just so much information to sort through on your own. One thing that I highly recommend is a pull-out faucet. If you don't have a pot filler above your stove, you can put the pot on the counter (vs in the sink) and pull out the faucet to fill it. I also love the faucets that have a spray option. This eliminates the need for an additional sprayer (and an additional hole on your countertop). I find the spray option great for watering plants and cleaning things like mesh collanders. And from what I've heard the touch faucet is a great option as well for dirty hands when you're dealing with meat or other things you would rather not have to clean off your faucet.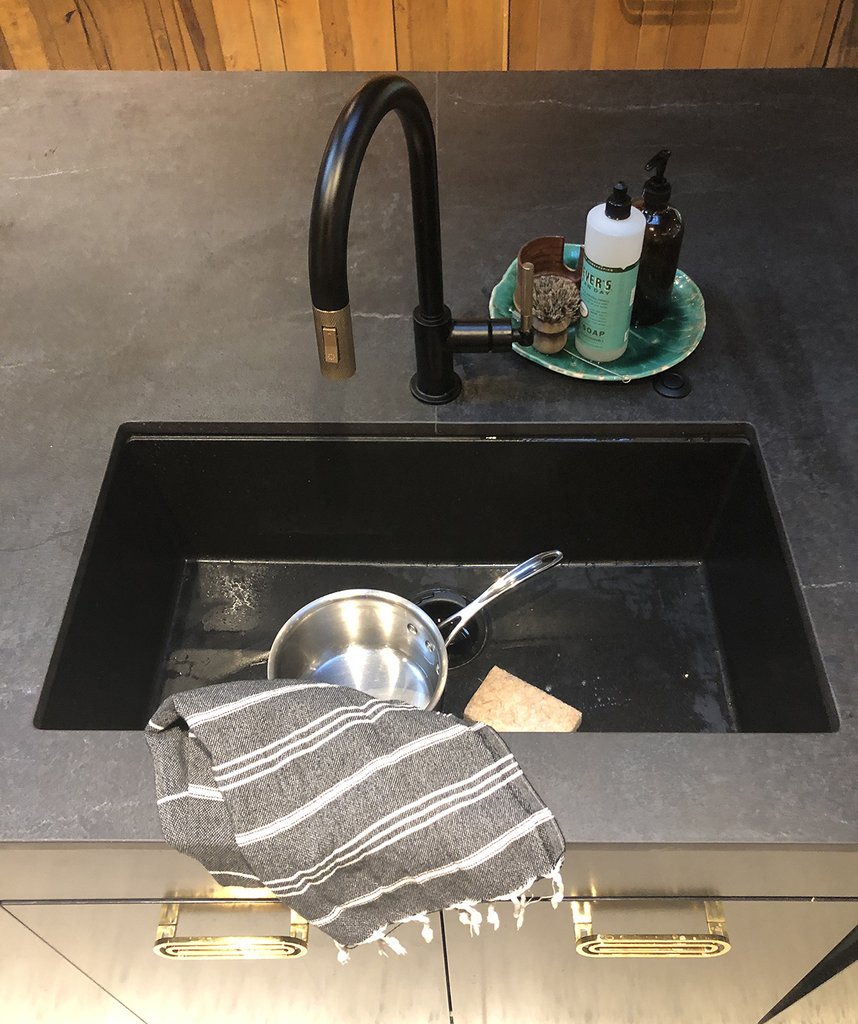 – Do you need / want a garbage disposal? What are your local codes and rules concerning disposals and dishwashers? Having lived in all sorts of residences – from single family homes connected to sewers, to those on a septic system to condos, coops and rentals, I realize that the situation can vary drastically. If you live in a high rise – especially an older one – your building may not allow you to have a garbage disposal as the debris that one generates can be a potential clog situation with the building's plumbing. The other thing to think about is whether you are on septic. We are on septic at the new house and we have a disposal but we are acutely aware of the things we can't put down the drain that would be bad for the septic system – things like coffee grounds. In California you have to have a air gap with a dishwasher with is an unsightly protrusion (google it!). I'm not completely sure why you don't have to have it in other states, but I'm glad I don't have one of those ugly things on my counter. Needless to say – know your codes before you start!
Now then let's move on to the way things look – which is by no means secondary to function in my book. A beautiful kitchen makes a happy homeowner!
– Do you want your sink to be a focal point and stand out from your counter surface? Ie: a stone sink or farmhouse sink can be a real statement. Or would you rather it go away and blend in? I personally wanted my faucet to be more of a statement and knew there were enough wow factors in our kitchen that the sink should sort of go away – see image above. Stainless would be the obvious durable choice, but even then it would stand out from our black counters. Then I found this amazing granite composite sink from Kraus on Build.com. I love how deep it is and that the black really matches the Dekton counter surface. It's easy to clean and super durable. Unlike a standard black glazed sink, it's matte and really doesn't show water spots.
– Do you want your faucet to be the focal point? I knew that I wanted my faucet to make a subtle statement. I found this one by Brizo and, while I know we've all been having a knurling moment and it's possible it won't be so on-trend in the near future, I still really like it. I had the legs of my island knurled so that they work together and it ties into both the brass Deco handles on my black cabinets as well as the black Deco handles on my pantry cabinets. Your faucet can be a focal point by way of its shape or its finish and it can tie into the other items in your kitchen or truly be a stand alone piece.
– Where is the best place to hide your disposal switch? You want this to be easily accessible but you also want it to go away – there are just some things that truly don't need to make a statement. In the case of our situation, our sink is on an island so I knew that the switch would have to be counter mounted. I chose a matte black metal counter button that works with both the counter color and the color of the faucet.
That ended up being a lot to consider for just one part of your kitchen. The good news is that when I ordered all of my items from Build.com, they had an expert on the other end who knew the questions to ask and made sure I had all of the components I needed for everything to work (ie, if you have a disposal, you need a switch!). Some things are pretty obvious and innate, especially if it's something you've done time and again, but for those of you just getting into the home renovation game, hopefully you've gained some helpful knowledge.
Next week we will discuss bathroom plumbing which is a whole other bear – sinks, faucets, shower heads, bath fillers, drains, tubs, toilets – my head is already spinning.
* This post is sponsored by Build.com, but all designs, words and content are mine. Thanks for supporting my favorite brands that let us create original content and designs for you!