Now that Lucy has arrived I've given away most of my maternity wear (well, except for a couple pairs of jeans that I can't part with) and have been trying to re-assess my wardrobe. Since I work from home and seldom have any sort of formal client meeting, the need for nicer work wear is sparse.  I don't want to look like a slob, but more casual outfits that work for playdates and for working with my associate Jessica are more my vibe. So I've been investing in more classic durable items like my diaper bag I bought a while back and these clog boots from No 6 that I bought over the winter. And I've bought a bunch of inexpensive flowy tops that work well for nursing (that I'm not afraid to mess up or throw in the washing machine).  Here is a peek at what has become my summer uniform: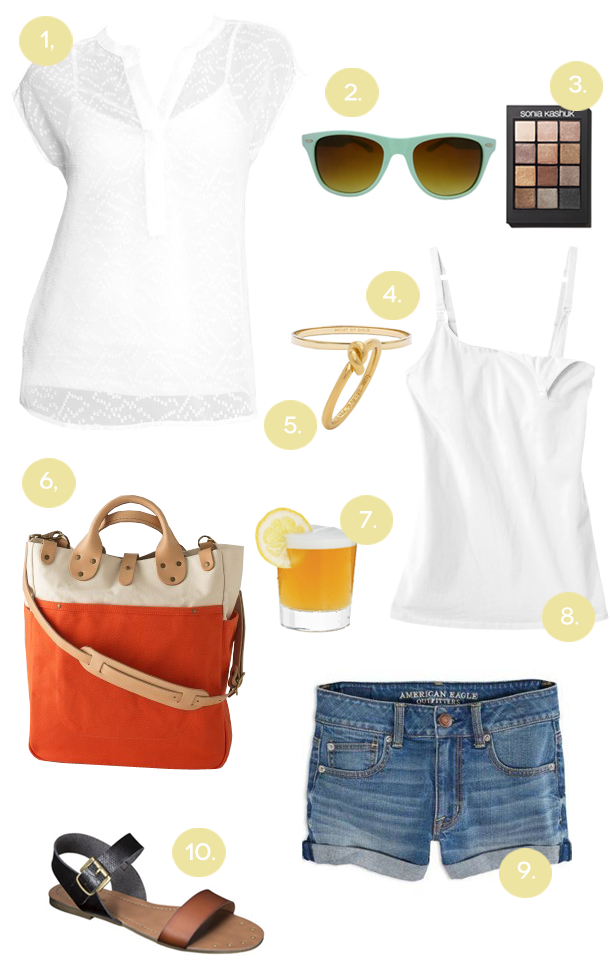 1
This top
from Old Navy is sheer and breezy.  I love the pin dot detailing and how cleanable it is. 
2 A pair of
fun sunglasses
is a must for summer. I never spend more than $15 on mine and these from Target fit the bill.
3 I've been trying to pay more attention to my skincare and makeup routine (but not spend an arm and a leg). This sparkly
eye shadow palette
from Sonia Kashuk is great for every day as well as a night out.
4 & 5 Casual doesn't mean no jewelry. This
classic bangle
and
knot ring
from Kate Spade keep it simple and classic.
6 I ended up deciding on
this diaper bag
from School House Electric.  It has not disappointed.
7 A shandy (beer and OJ) is my summer drink of choice. Hydrating and increases your milk supply if your nursing!
8 This
nursing tank
from Gilliagan O'Malley is my go-to under most tops.  I have it in black, white and grey.
10
These sandals
from Target are simple, comfortable and on-trend.
– Jess