A few of your have requested more updates on the work I'm doing for residential and commercial clients.  It's always tough to know when to do these posts. Usually there is a before post but I like that to happen after the design scheme and selections have been completely nailed down. Then there is an after post which requires staging and good photography which often happens a while after a project is complete.  I think I finally have a few things to show you guys.
First off is a bar project I'm working on in the city. Some of you may have been to PS 450 back in the days when I lived and worked in New York or perhaps more recently.  The client is someone who I had worked with in the past and was happy he tapped me for this project now that I'm back in the hood.  PS 450 holds quite the raucous twenty-something boozy brunch and they also do a great lunch and happy hour.  The name refers to its Park Avenue South location but I also like the play on the New York public school naming convention.  Here is what the bar looks like now. A little tired and dated, almost too mod and clean lined for the current more retro industrial trends.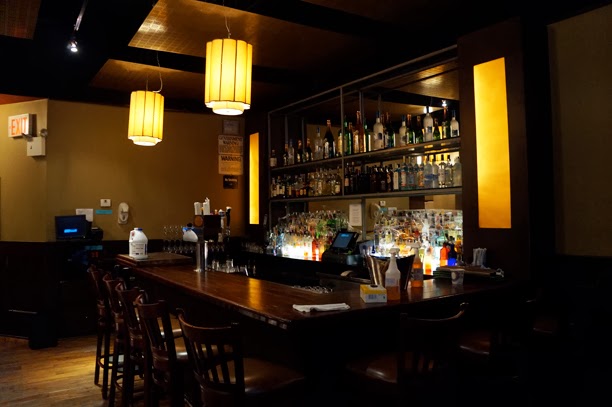 I wanted to add more detail and sort of play off the public school theme. There were a few things we had to keep like the mirrors, floors, bar, back bar and ball chain curtain in the back, and we had a very limited budget. I think the final look will be nice and classic and not overly themey.  Here is the design board I created.  My sister-in-law Soyoung from Dogear Press is helping to design the chalk art wall that has words that reference the fare and libations at PS 450.