Selecting Bathroom plumbing with Build.com
Hi Everyone! A while back I posted about selecting kitchen plumbing, and while there isn't all that much plumbing in a kitchen, the considerations proved to be quite complex. I'm back today to give you my tips for selecting bathroom plumbing with my favorite source for all of this Build.com . I'm thinking that I will go down the list item by item this time around. Here is a little look at what we had selected for our guest bathroom.
And here is a photo of the final product.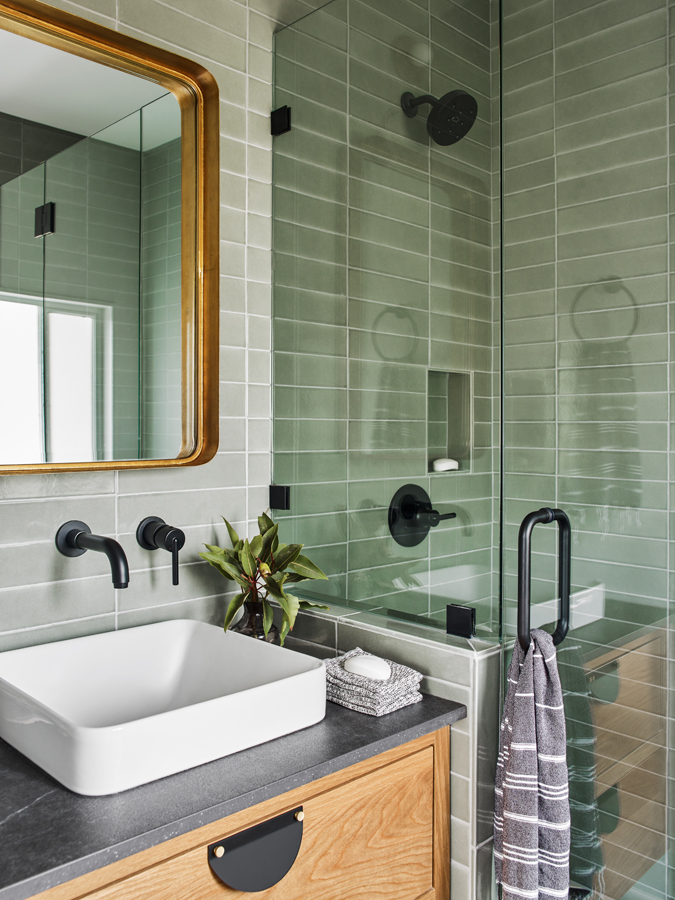 As far as selections, let's start with the sink. I'm so glad the vessel sink is no longer a trendy thing. It's become a staple and there are still trendy versions but at least it's not like everyone is rushing out to switch out their sinks to vessels. A few thoughts on sinks. Your sink shape and size should be decided in conjunction with your faucet selection. Vessel sinks (the type that sit on top of a counter) work best with goose neck or wall mounted faucets and typically have a more modern appearance. If you are going more traditional I would select an undermounted sink. Oval is your standard but there are a lot of beautiful rectangular sinks out there. Most are vitreous china but there are some in fascinating stones and metals these days. Just remember if you're using a different finish read up on the maintenance. Metal sinks – such as ones in hammered brass or copper are great in powder rooms where they maybe aren't used quite as much. And depending on the metal – if it's lacquered or not – it may patina, so be sure to understand what sort of finish you have and how to maintain it. I like vessel sinks in kids rooms because you can get away with a slightly lower counter.
Now let's talk faucets. There are so many options – wall mounted, widespread, single hole. Again, consider the usage scenario. Wall mounted faucets are cool but require more plumbing skills and precision on the rough plumbing versus something where the guts are hidden inside a vanity. Widespreads are your most common option for a higher end design and for more traditional aesthetics where there are three holes, one for the spout and then your hot and cold water. Single hole options are nice because you can control the water temperature and flow with just one hand, but these types tend to look better in more modern applications.
Moving on to the not so pretty part – the toilet. I don't have much to say about toilets and most today are low flow. You will need to consider the height of the toilet (higher seat toilets are better for older folks with mobility issues) and whether it has an elongated or standard bowl which can affect how far the toilet projects from the wall. A single unit toilet (where the tank is connected to the bowl and base) is cleaner looking and more modern, and even more modern still is a wall mounted toilet. Wall mounted toilets are especially great when it comes to cleaning your floors and are much more common in Europe but they require more pre-planning as far as structure and plumbing. Speaking of Europe, are you guys into bidets or washlets (the toilet seats that clean your bum)?
Next up is the shower or bath. Our guest bath has a shower so let's talk showering. For a while everyone was into body sprays and rain heads. I love a good rain head but things to consider: rain heads don't usually spray with the kind of force as a normal shower head – they are meant to mimic rain after all. So if you like a good massage shower, don't get a rain head or do both. Body sprays – same types of considerations. Body sprays require a lot of water and pressure so if you don't have a large pipe going to them, they may not function as you'd like. I prefer a standard shower head but in a larger size. For the valve or knob as it were you can go with a pressure balance valve or thermostatic. Does that sound like Greek to you? Well basically most lower and mid end showers these days are pressure balance. You turn the water on and set the temperature with the same valve. If you have a thermostatic valve then you set the temperature and can leave that at your setting and just turn the water on and off. I can't say one is better or easier than the other.
We didn't do a bath in our guest bathroom – or rather the space didn't exist for it but I do have a few thoughts and tips for selecting a bath. There are built-in baths and there are free standing baths. If your bath is going to be your primary bath and showering location, I would say go built-in. It will just work better for showering overspray and for hanging a shower curtain. If your bath is literally only for taking a bath then freestanding can make a great impact and really be a feature in your bathroom. One thing to think about is how much space you have. If you do a freestanding bath, the spout and controls either have to come out of the wall or floor (or ceiling!). And you want to make sure you are far enough away from the walls that you can clean around your bath. The last thing you want is damp, uncleanable areas in your bathroom! Also a few more things to consider are the weight and material of your bathtub and what sort of floor support you have underneath. Even a light weight tub made of fiberglass can be super heavy once you've filled it with water. Anyways, I can't wait to redo our master down the line and add a soaking tub! Stay tuned for that. And in the meantime keep an eye out for the actual professional photographs coming soon!
Hopefully this proved to be useful. Let me know if I missed anything as far as what to consider plumbing wise! No matter how long I'm in this business there is always so much still to learn.
Here are the sources for our specific selections from Build.com :
* This post is sponsored by Build.com, but all designs, words and content are mine. Thanks for supporting my favorite brands that let us create original content and designs for you!
Photo Credit: Emily Followill Photography