Style Spotlight: Meus Shop
My friend Deb (of Work and Play fame) recently introduced me to a fellow local entrepreneur Mamma, Marchielle Hills of Meus Shop.  My kids had actually taken a music class with Marichelle and her kids in the past and while I didn't know her then, I definitely always admired her style (yes, I'm a total style stalker).  In any case, Marichelle's shop is chalk full of beautiful simple curated items for home and wardrobe.  I especially love the jewelry and clothes, now that I'm aiming for a cleaner way of dressing with my capsule wardrobe.  Below are some of my favorite items for summer: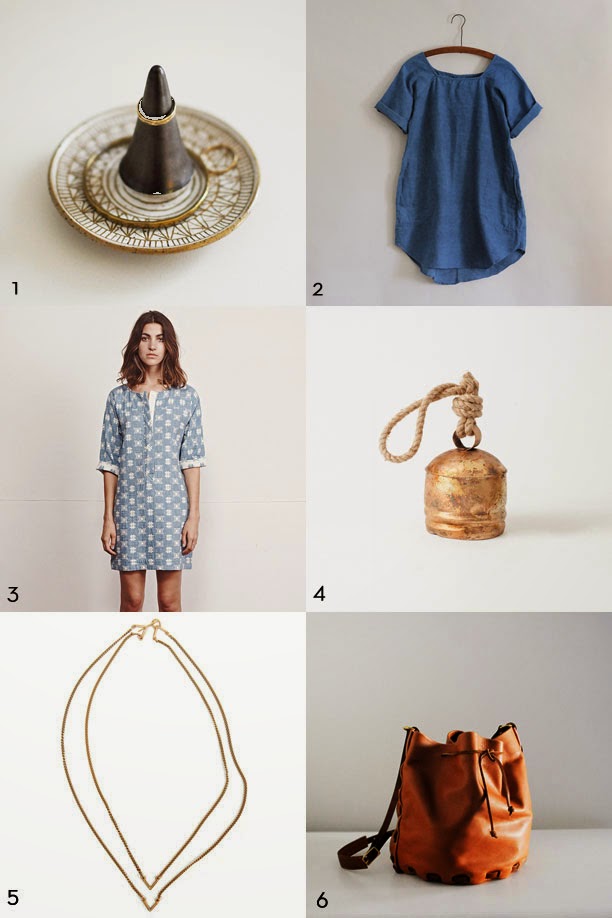 1 Marichelle rocks the stacked delicate rings in such a cool way – I totally want more of these in my collection and I think this ring dish is such a beautiful way to display them.
2  This indigo tunic is sold out but I couldn't help featuring it since I would snatch one up if she still had them. So versatile in summer and for layering when the weather gets cooler. And the price point is definitely right.
3 This denim dress is so easy and breezy.  Marichelle turned me on to indie label Ace & Jig and I am absolutely loving all their pieces.
4 A bell chime is such a nice way to add a little sparkle and ethnic flavor to a room – just hang it over a door knob and you'll know when someone is coming and going.
5 The Inga necklace is so versatile. There are three different ways to wear it.  This might just become one of my summer staples.
6 I love a good luggage leather bag. This bucket bag is perfect for toting all those kiddie essentials while looking stylish.
Oh and of course Marichelle's beautiful home was featured on Designmom recently.  Thanks to Deb for the intro. It's always fun to meet other creative people in our community.