It's been a while since I posted anything about my house, so I thought I would give you an update. If you follow my personal instagram account then you've been following along as I make some minor changes around the house – moving rugs around, getting a new-to-me family room sofa, new coffee table, hanging a new pendant on the landing. All little things that are starting to make the house feel a little more put together.  This spring my big house-related splurge will be a sprinkler system. I can't wait to get it installed and hope that it will be the difference between my plants dying while we are gone on vacation and coming back to a crop of veggies.  On the inside of our house, I'm planning a bathroom renovation. I'm not sure when that will happen but I'm starting the process of sketching, selecting finishes etc.  
Our second floor is a little funny bathroom wise. There are two bathrooms but one of them is locked off in our Airbnb Suite as a guest bath. The other bathroom is our master bath and is accessed through our bedroom. Up until this point, it hasn't been a problem. Our kids are little, they barge into our room as it is and usually need help in the restroom.  As they get older though, we would like to have a little privacy and space.  The idea is to convert our master to a hall bath and then down the line add a master bath within our bedroom. Here is our current bathroom situation.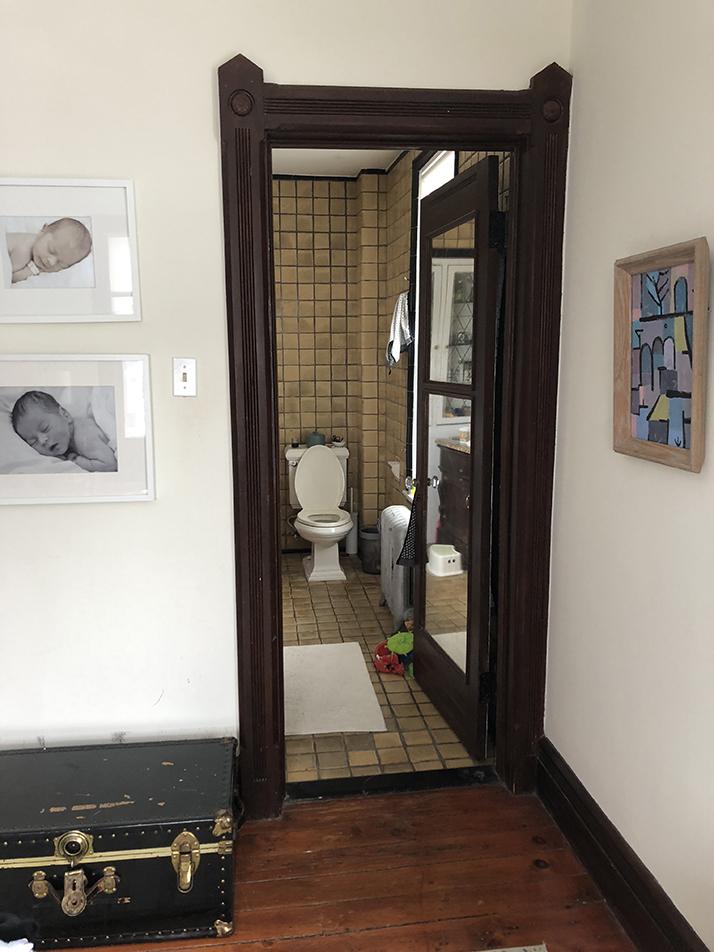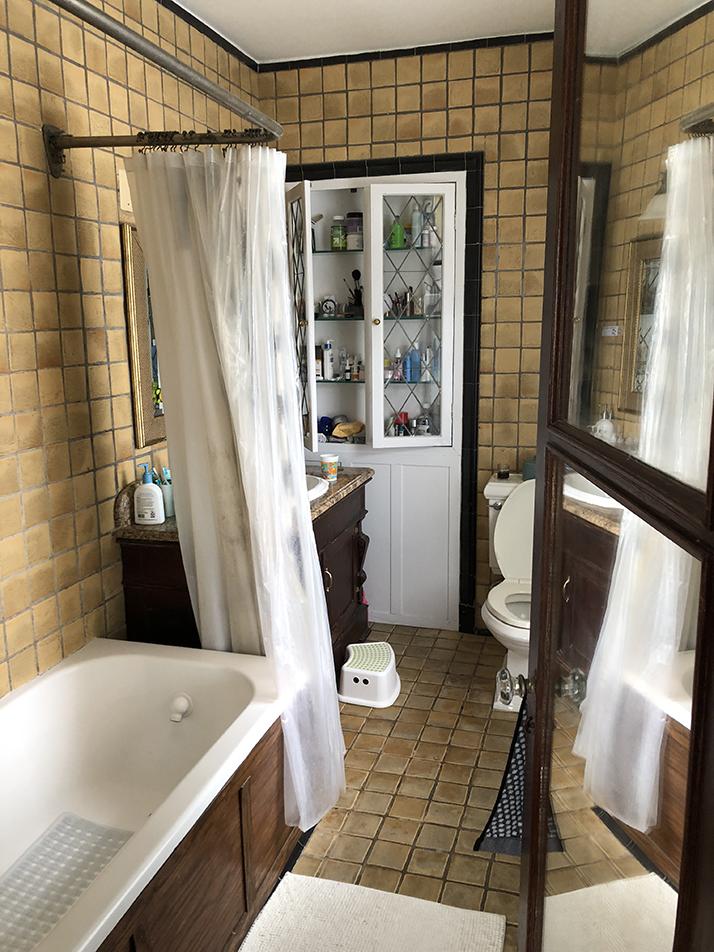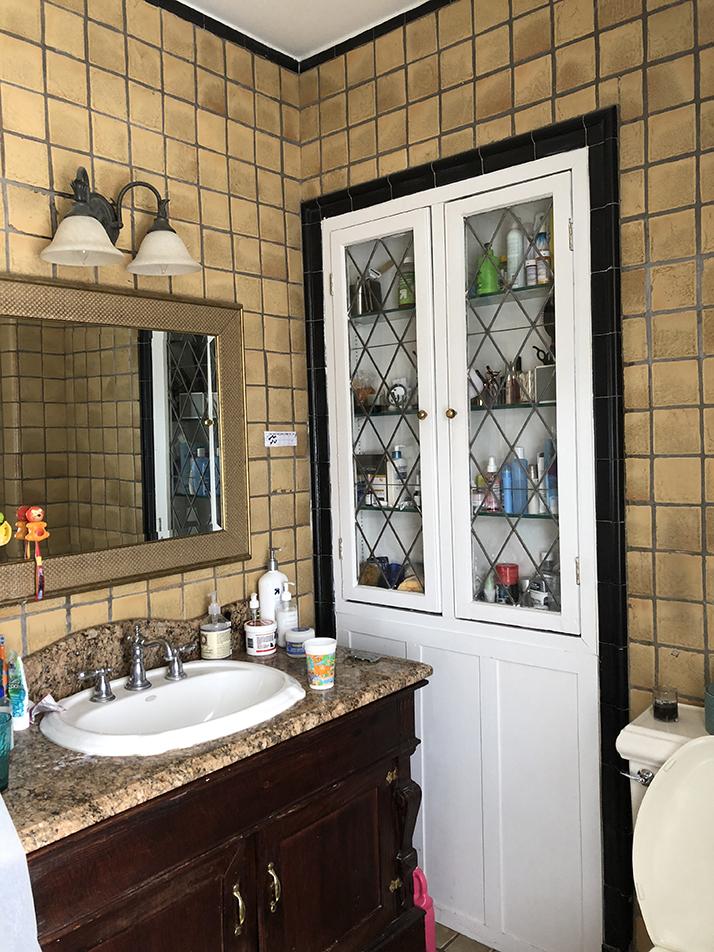 And here is the landing outside our master.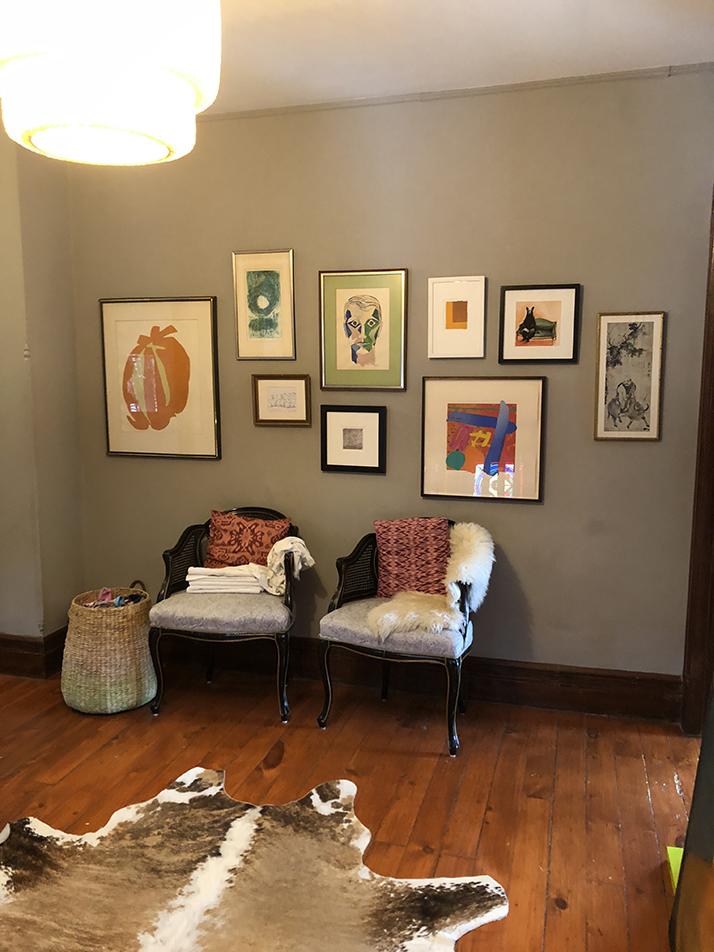 I think the vintage tiles in the bathroom are pretty cool, especially the black tiles around the doors and medicine cabinet (formerly a jack-and-jill door to Bryan's room).  But i'm not in love with the color, the granite vanity and the fact that I have to use hair rubber bands to hold our bath drain open.  Here is what it currently looks like in plan.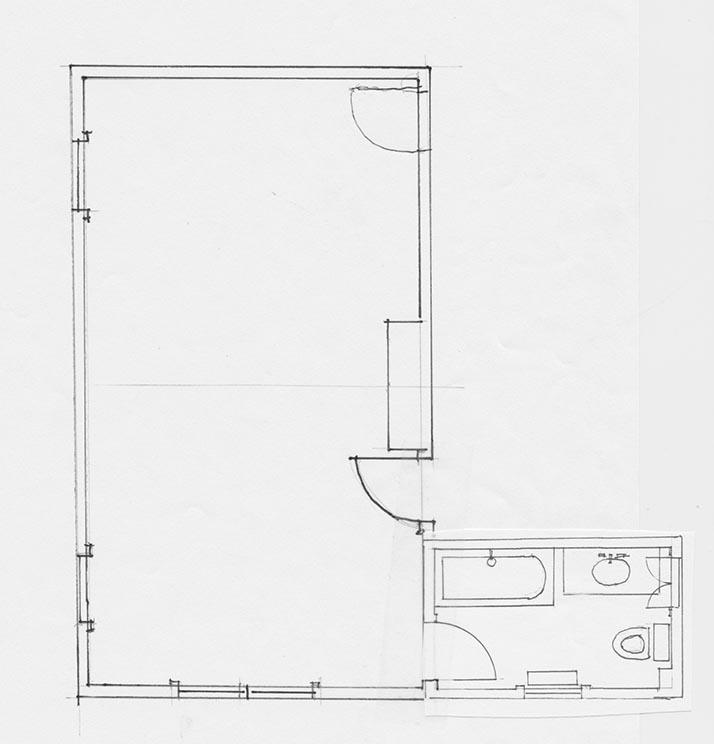 Our master bedroom is very large and has a large walk-in-closet that doesn't function very well (the door on the upper right).  So the idea is to shift the entrance to open onto the landing, straighten out the chimney wall (which allows us to expand the kids bath and add a double vanity) and then use the existing master closet space and end of the room to create a vestibule / dressing room and master bath. The master bedroom becomes smaller but it functions better. There will be a wall of built-ins with a desk for Scott and our bed will face the windows and the view.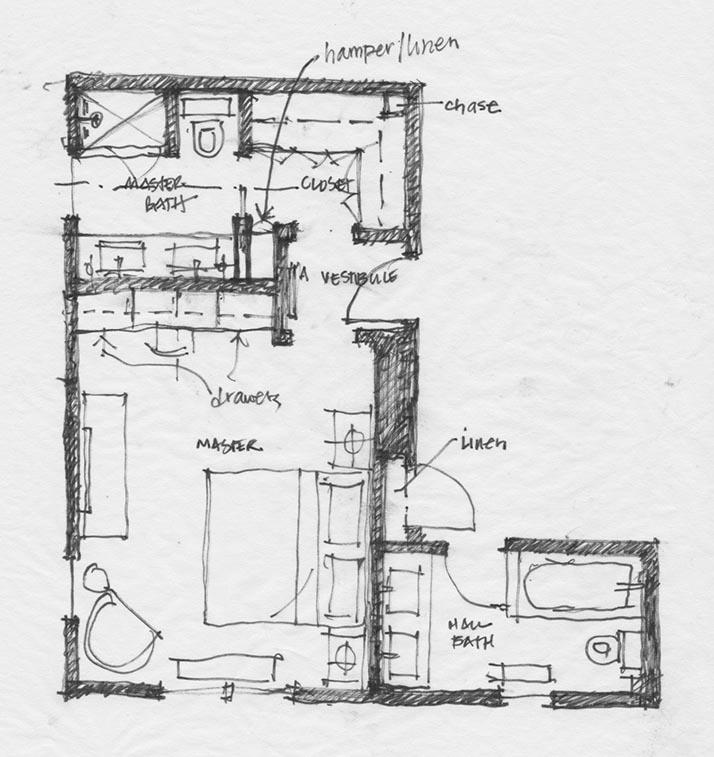 As I started concepting, I was especially drawn to this bathroom.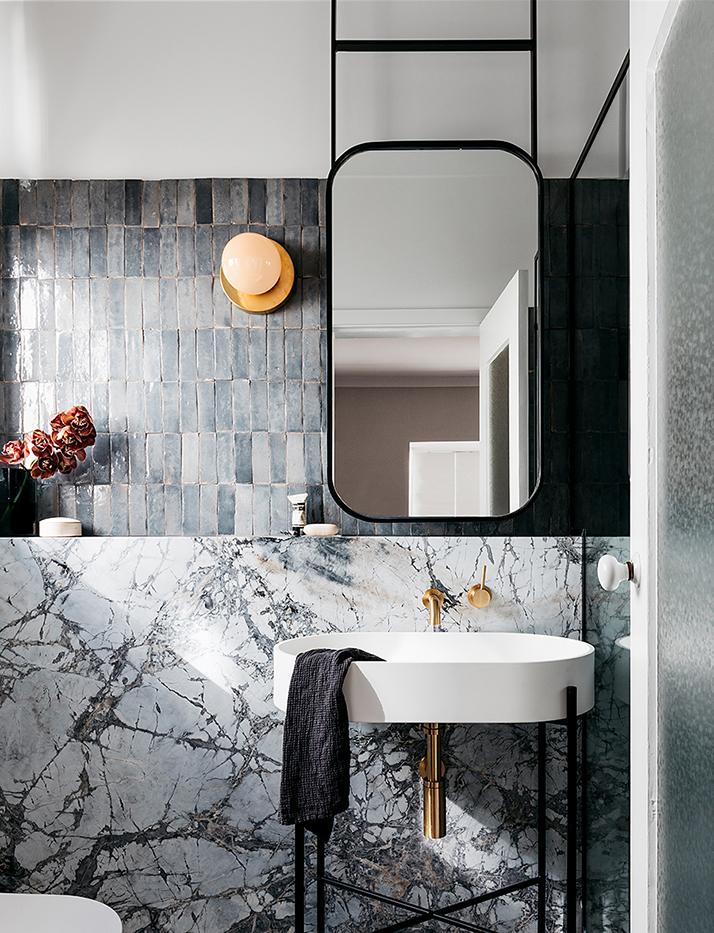 I realize that it's a bit too modern for this house even though I like mixing styles. There aren't really any vintage elements and the vanity is not practical at all from a storage stand point. I do love the tile, the marble, the wall-mounted faucets and the mix of brass and oil rubbed bronze. So I went on a search for other options that combined a little tradition with modern. I love both of these bathrooms by Studio McGee and they start to go in the right direction with a clean modern take but a little bit of tradition in the wood vanity.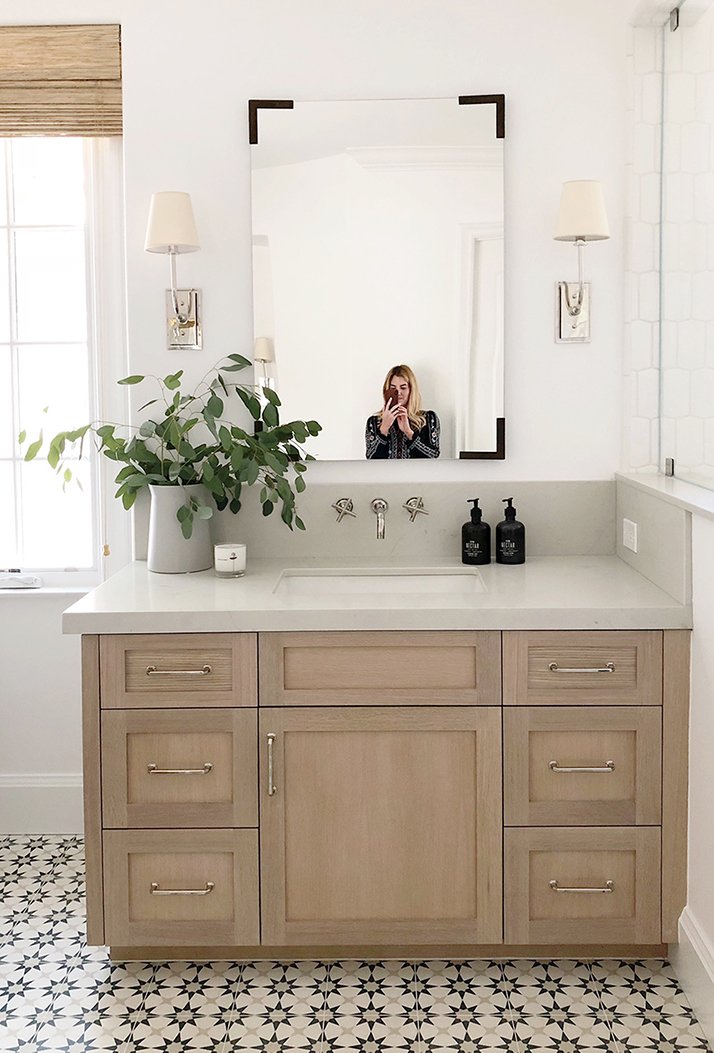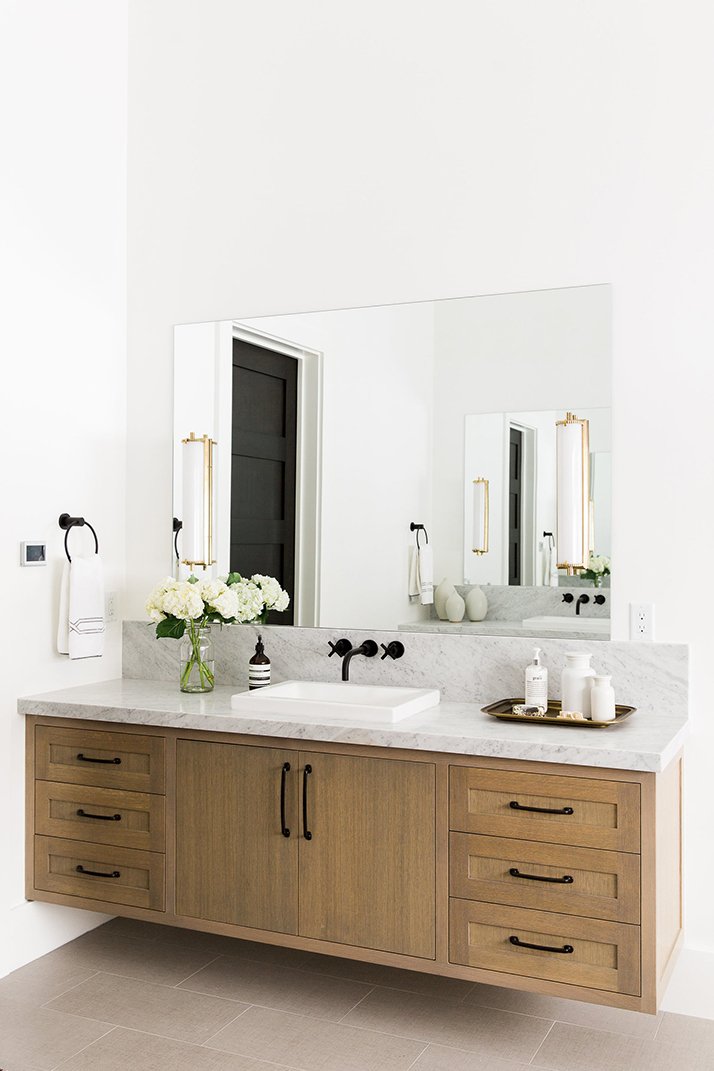 I'm not sure about cement tiles in the top image. I love them but I want something cleaner off our landing and I would rather splurge in the master bath. But I was still drawn to the earthiness of the tile in the first image as opposed to the standard white subway tile and I am in love with the texture of the brick tiles by both Cle and Fireclay.  So here is the concept board I have come up with.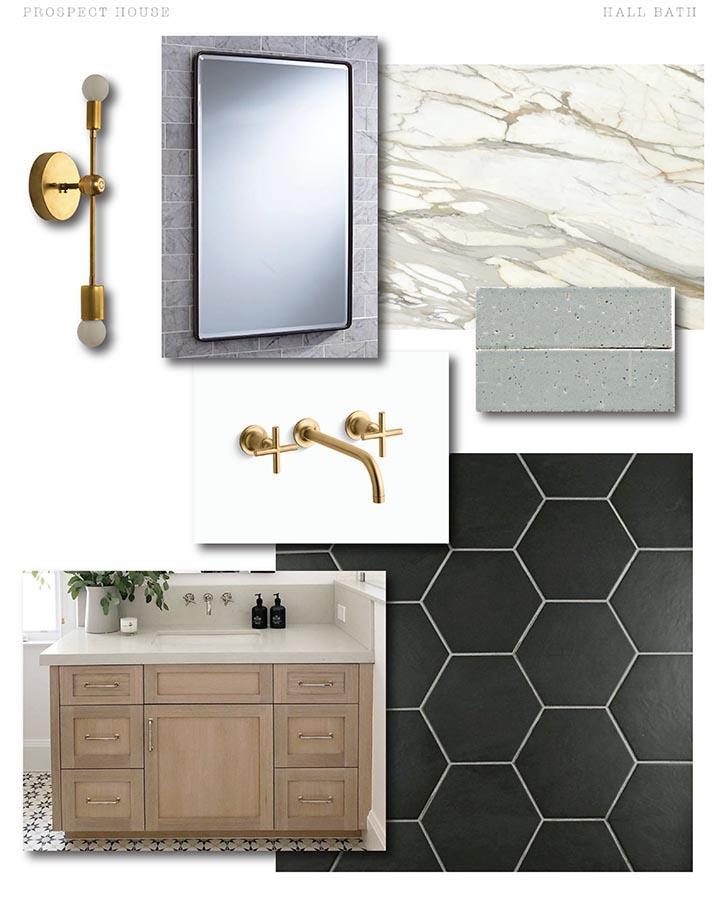 I love the idea of doing a tall backsplash in marble or maybe tiling the whole vanity wall with the wall mounted faucets and then having these oil rubbed bronze medicine cabinets. We would do a wood vanity using some of my hardware line to lend a touch of luxury in the knobs and pulls – stay tuned as I think we will use a new series here. I'm debating satin brass versus unlacquered brass (maintenance nightmare?) or lacquered brass on the plumbing. 
What do you think? I am super psyched about the overall plan even if it's 5-10 years before we achieve it.  I'm thinking much longer term on this project so I want quality, impact and something that will stand the test of time as opposed to just resale value.  Let's hope Uncle Sam gives us a hefty refund this year so we can get this product off the ground.