I was thinking the other day about people whose careers and lives I admire. There are bloggers who I follow avidly and designers whose TV shows I wouldn't miss an episode of…..people who are true to themselves and their style but that really understand how to serve their clients while creating a consistent brand.  I thought it would be interesting to share a few of them with you.   It was hard to narrow down the list, but I think I've come up with my faves below.  In no particular order….
Genevieve Gorder of Dear Genevieve.
  Genevieve was one of the wonderkind designers that started out on Trading Spaces. Unlike some of the other folks who graced that show, she went on to be a spokesperson for Flor carpet tiles and has blossomed into a full fledged residential designer with a thriving business. I love how empathetic and personable Genevieve is with her clients. She treats them like family and never talks down to them (A risk that a lot of designers run when talking to their clients about their favorite topic, design).  Genevieve's all about creating a space that feels lived-in and collected. I love her refined yet rough hewn style and the unique finds she sources while trolling the vintage stores of New York.
Cortney and Bob Novogratz
.  Admittedly I liked their show Nine by Design a bit more than their newer HGTV Show
Home by Novogratz
, but I'm still a big fan of what Cortney and Bob do, not to mention the fact that they do it all while raising seven children… Yes. Count it. SEVEN. CHILDREN.  Cortney and Bob are self-taught designers and the heads of
Sixx design
in Manhattan.  Their style is quirky, and they are not afraid to mix super high brow with super low brow (think art from Phillips de Pury with IKEA tables).  They have a distinct voice and an irreverant attitude when it comes to the rules of design. They are the kind of people you'd want to hang out with – laid back (I guess you have to be to have seven kids and not go crazy), stylish, interesting, and fun.  Any chance I can get an invite for a glass of wine on their west village roof deck?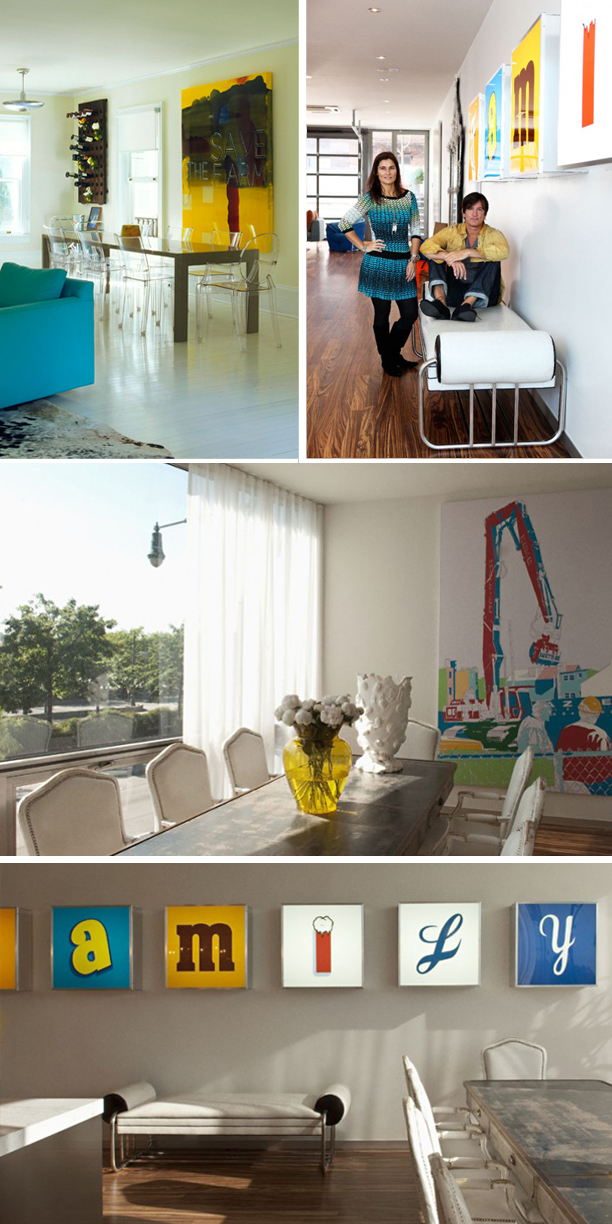 Joy Cho of OhJoy.
  The only non interior designer on this list, Joy is a graphic designer and blogger and general entrepreneur. She has a beautiful
blog
about, well, design as well as food and other fun treats.  She also designs stationary and wallcovering and is a master at licensing out her designs and brand.  She runs blog and product design
workshops
and is basically a renaissance woman – managing to make a very good living doing a little bit of all of these things.  All the while fitting in lunch with her girlfriends (of course, with photographs of the food for her blog) and walks around the Silverlake reservoir (ok, I'm just a little jealous). And she has a super cute daughter to boot who was born just a couple weeks before Bryan.
Jenny Komenda of Little Green Notebook.
  A
designer
and blogger and mom who moved from the burbs to the Big Apple, she was named by
Elle Decor
as one of the designers to watch in 2012.  What I love about Jenny though is the fact that she is the ultimage DIY-er, yet somehow she manages to maintain a perfect red manicure while doing it all.  Jenny takes on residential clients as their designer, but she seems to also act as their seamstress, upholsterer, and refinisher. She's not afraid to tackle a
tufted headboard upholstery project
(Pegboard!  Genius!) or sewing french pleated drapes.  I love that she keeps it real by doing these things for her clients.  I'm sure she could make a ton of money doing high end residential and farming such projects out to the trades, but Jenny's a smart cookie and she knows that her huge blog following loves her DIY posts.
 Anyway, thinking about and writing about those people whom I consider mentors in the world of design and entrepreneurship was a great exercise for me. It made me really think about the traits that I most want to embody in my own professional life.  Who do you admire most and why?