Trending: Minimalist Pink Bedrooms
Hi, Kate Cabiltes here! 
The blush and millennial pink look trending for some time now is still not old in my book! I've been drawn to the bevy of pink and blush minimalist bedrooms that have been popping up more across design blogs.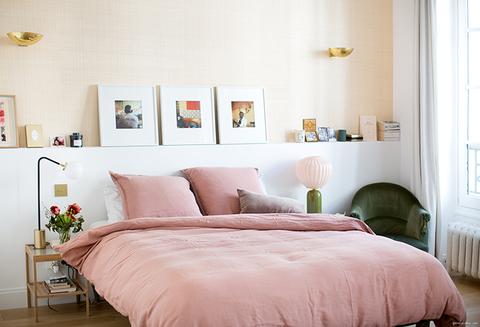 A huge fan of the work of designer Sarah Sherman Samuel already, I fell in love instantly with her guest bedroom design for Mandy Moore on MyDomaine. This space is light and simple yet sophisticated and she sourced attainable items but put them together ever so thoughtfully.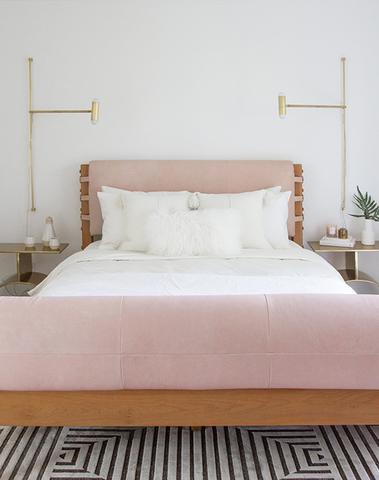 The beautiful Rhys Bed by Anthropologie is so very dreamy and while it comes in a variety of fabrics and colors, the blush leather is my fave. Sherman keeps things minimalist by focusing on a light neutral color palette. Aside from blush the rest of the space is white (walls and bedding) and bronze (light fixtures and side tables) with a geometric statement rug in white and black to anchor the look.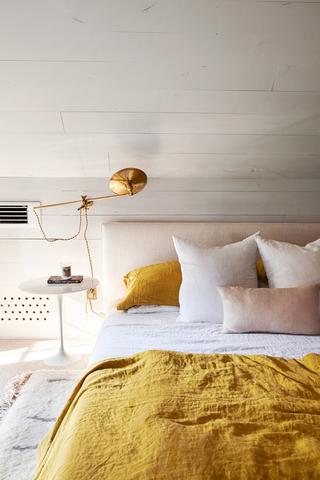 If you want a slightly bolder ambiance blush doesn't have to be paired only with neutrals. It partners well with a complementary shade of green or blue or even a contrasting dark mustard as is done so well here by Pippa Drummond. As long as the majority of the space is simple and neutral adding one other color is a great move. When combining pink with a shade of yellow, light fixture finishes in bronze or brass pull well from those tones.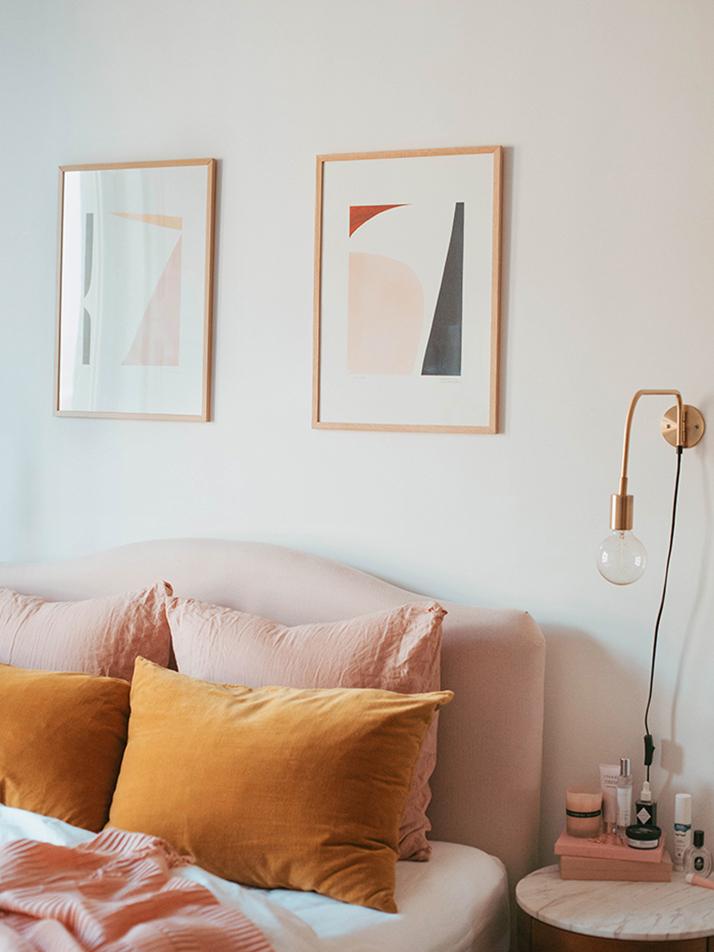 As for wooden furniture, lighter finishes are ideal in pink bedrooms so as to not overpower the light pinks and neutrals. Oaks or driftwoods are ideal and for lighting it's best to stick with yellow finishes (brass and bronze) even if you aren't pairing your pinks with mustard. Note that if you want to stay away from metals you can't go wrong with white hued light fixtures or furniture.
Here is some inspiration for creating a minimalist pink bedroom of your own…
Sun Series II Bedding via Rebecca Atwood
Leather Hanging Planter via Moorea Seal
Brass Plug In Wall Sconce via Etsy
Light Pink Luna Chair via West Elm
Pismo Rattan Side Table via Serena & Lily
Blush Leather Rhys Bed via Anthropologie
Inspiration images via Glitter Guide, Sarah Sherman Samuel, Pippa Drummond, Kate La Vie