Week 3: The One Room Challenge, Lucy's Room
Hi Everyone! I can't believe we are already half way through the One Room Challenge.  If you haven't already gone on and perused all the amazing projects involved, please take a look. So much inspiration!
Lucy's room is coming along nicely.  We've made some real progress over the past week.  After installing the shelves and getting the rug nailed down last week, we went ahead and finalized our paint color (Ben Moore Dartsmouth Green) and took the plunge.  Just as a reminder, here is Lucy's design board (and some before photos from week 1).
And here is how her room looked last week.
And here we are this week with the paint.  I feel like it's starting to come together. Still miles to go.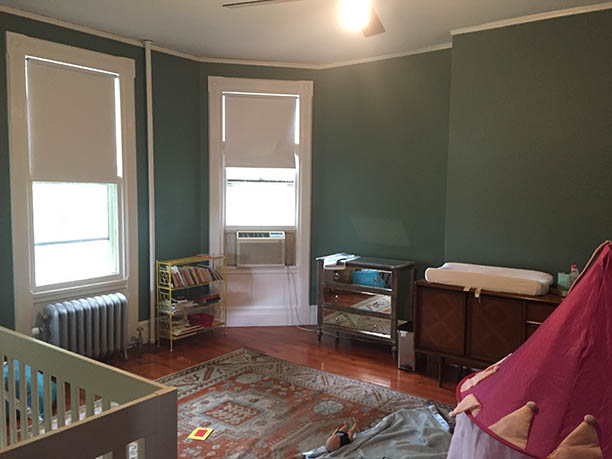 We also received some fun items in the mail. This amazing Slim Aarons print from Photos.com
This fabulous faceted mirror from Zuo Modern (which will be a nice subtle nod to my faceted hardware).
And this amazing mythic llama lamp from Barbara Cosgrove Lamps.
Apologies for the progress style photos. We will have some great styled images at the end!  Stay tuned on Instagram for more progress. Next week we are hoping to make a decision on a bed before it gets too down to the wire and also take possession of our newly upholstered love seat.  Woohoo!