Weekly Weeds: Fall'n Plants
"As the days take on a mellower light, and the apple at last hangs

really finish'd and indolent-ripe on the tree,

Then for the teeming quietest, happiest days of all!
The brooding and blissful halcyon days!"
Settling  into your cozy down sofa  in front of the fire with a hot toddy and a little more Walt Whitman?
Wait…get up!
Fall is time to plant. Now is a promising time to add to your garden, especially here in Southern California.
The soil is still warm from the summer (I know, it wasn't much of a summer, but still), the air a bit cooler, and the chance of rain increases – rain that will encourage growth of the deep root systems that get drought tolerant plants through the summer.It's a kinder, gentler time for plants to establish themselves so that they can burst forth in the new year with a super head start on all those wimpy spring-planted babies. The conditions in the next couple of months are ideal for planting many lovelies, especially California native plants which can be tricky to get going in the heat of the summer.
 There are some things to watch out for when planting in the fall though, especially as 
we are still in drought-mode and the forecast for this winter isn't replete with water. The LA Times article,
The Dry Garden: Predictions of La Niña 
Winter, 
has some very useful information about how to get and keep things growing in a dry fall/winter full of moisture-sucking Santa Anas. To find the right plants, the timing couldn't be more perfect for the September 25
th
grand opening of the
Grow Native Nursery
.
This is the Rancho Santa Ana Botanic Garden's new West Los Angeles branch – they are partnering with the VA's Horticulture Therapy Program which helps train veterans for transition back into the civilian workforce.
There is a
preliminary plant list
with many of the hundreds of different native plants that will be available on the day.
Print it out, check off your wish list, grab a grand-opening taco from the local food vendors at the nursery, buy plants AND contribute to a good cause!
On my list: Everything. As for what to plant,
California Fuchsia, Zauschneria californica mexicana
, would be a happy plant if you tucked it into your beds soon.
After a year or two, this tough low-grower can be mowed right down at the end of the year for spectacular flowers the next summer.
You can throw out the hummingbird feeder with this one.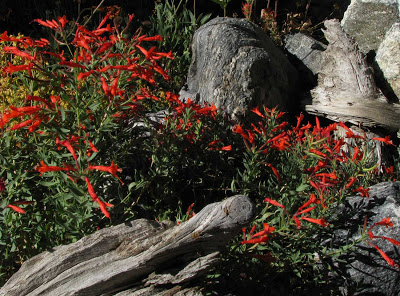 Pink Zauschneria, California Fuchsia – Las Pilitas
Oh, and by the way, pay attention to where you put the 's' in Fuchsia – it's named for 16
th
century botanist Leonhard Fuchs. Remember fuch-sia. Is that mnemonically rude? Try
Wooly Blue Curls – Trichostema lanatum
for that dry barren south-facing patch – 
the pink-purple flowers are scented too.
Invite any of the Ceanothus family, aka California Lilacs, to your drought tolerant garden party.
Many of these start blooming in the winter and continue on through spring. Add
Ceanothus hearstiorum,
 ascented foliage groundcover which according to
Las Pilitas
, smells like a "…forest by the sea".  
Plant
Ceanothus thyrsiflorus Zanzibar
a) because you love the name b) because it seems to be more popular in the UK than here in its native growing grounds and we need to take it back or c) it's just really pretty.
Las Pilitas Nursery has a very useful
Ceanothus flowering chart
so you can plan your fabulous flowering display properly. Nosy neighbors? Fast growing 
Toyon heteromeles arbutifolia
gets
 to 
10'Hx 8'W quite quickly and comes with white flowers followed by red berries in the winter.
Don't feel bad if you mistake it for Holly – so did the folks who named Hollywood.
If you are still feeling a little insecure about just what and how to plant this autumn,  Nopalito Native Plants Nursery in Ventura has the perfect class for you:  Planting and Pruning – How to Create and Maintain a Beautiful Native Plant Garden in the Fall   
You can go a long way with just this and the Sunset Western Garden book. 
As the cherry on top, fall plant sales abound at arboretums, botanical gardens and nurseries, 
where you can get all kinds of interesting and different plants at good prices. 
Weekly Weeds by